Source: Crazy for Chocolate (Periplus-step-by-step)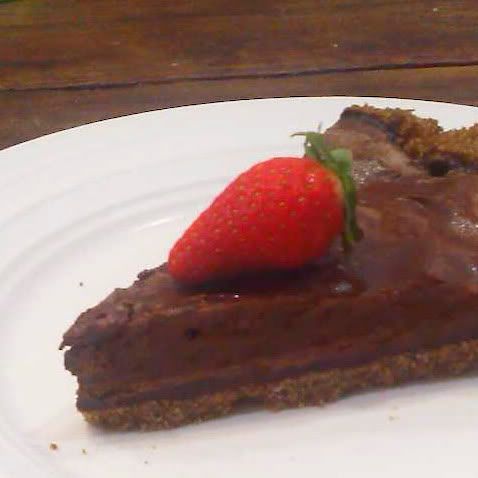 Base
200 gm (6
1/2
oz) chocolate biscuits crumbs
100 gm (31/2 oz) butter, melted
Chocolate Cream
100 gm dark cooking chocolate
1/4 cup cream
cocoa powder for dusting
Mocha Mousse
200 gm dark cooking chocolate, melted
60 gm butter, melted
1/4 cup thick cream
2 egg yolks
2 teaspoon instant coffee powder
1 teaspoon boiling water
2 teaspoon gelatine
1 tablespoon water
3/4 cup thick cream, extra
Method:
To make Base:
BRUSH a 23cm (9in) fluted, round, loose-bottom flan tin with melted butter/oil
Combine biscuit crumbs and butter in a small bowl. Press mixture into base and sides of tin. Refrigerate until firm (~ 20 mins)
To make Chocolate Cream:
Place chocolate and cream in a small heatproof bowl. Using double boil method, stir mixture over simmering water until smooth. Spread evenly over base of the prepared flan. Refrigerate until set
To make Mocha Mousse
Combine chocolate, butter, cream and yolks in medium bowl, mix well. Add Combined coffee & boiling water.
Sprinkle gelatine over water in small bowl, and stir gelatine over a pan of hot water. Add gelatine to chocolate mixture.
Using electric beaters, beat cream (extra) in bowl until soft peaks form. Fold cream into chocolate mixture. Spread over flan and refrigerate until set.
Serve with cream or ice-cream as desired.
Tepi flan yang dah 'reban' - you have to press firmly to avoid the fall
Note: Waited for Son 1 to provide a better image, meanwhile, enjoy this 'blurred' image ya